Lovers alone wear sunlight.
E.E. Cummings

Just loved the way the evening sun came though the window and made me enwrapped in warm hues after my post exercise shower
Source: annenyberg.zenfolio.com
Someone has discovered Spotify… and loves it. She made play lists all evening… Very eclectic music taste that is all her own :) And of course, one of the lists she made was the music from the Harry Potter movies.

Emma is writing in her diary in the background. Chilled evening, which is rare in our house.
Source: annenyberg.zenfolio.com
Day 162/366: BADS performance in the park
It was "Nygårdparkens dag" (a day celebrating a local park) today, and Emma's theater troupe BADS (Bergen Amateur dramatic Society) was invited to do a shorten version of their play Cinderella. Hence, Emma and her their friends from class who is also part of the crew, dressed up as mice once again.
Performing!
Sara and her best friend Valentina goofing:
The beautiful park
It was a fun family day in the park
Source: annenyberg.zenfolio.com
Today we went to a Persian restaurant called Zafran for dinner. Way back in February I bought a coupon for 2 servings of Persian tapas, and it had to be used by June 10th. So we were cutting it close!

The food was lovely, as was the place and atmosphere. It is definitely somewhere I'd like to go again. And even the girls liked the food. Sara the ground meat shish kebab, Emma the chicken kebab and the rice.

Here the girls are hanging outside after we finished our meal. Not sure what was so funny on the phone there!
The yummy food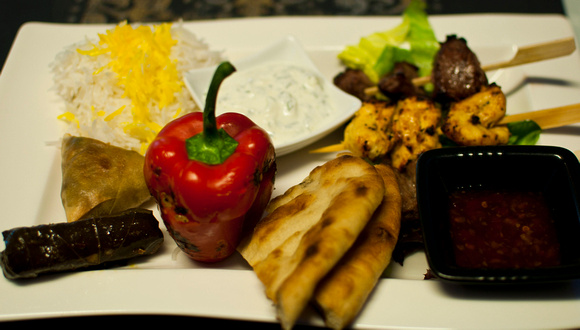 Emma outside
Came upon this old, abandoned garage as we were walking towards the light rail afterward
The garage made for a good photo shoot opt! Luckily, I have tag along, free models!
Source: annenyberg.zenfolio.com
I love trees. I feel deeply connected to them, and they have always played a vital role as a source of spiritual inspiration and comfort to me. The older and more crocked/tall, the better. With big, deep roots.

In mythology, trees are regarded as very powerful, and almost every mythological system has a powerful tree as part of their myth. In Norse mythology we have Yggdrasil, or the evergreen world tree. It represents the world's meridian and serve as a connection between people, the powers of the heavens and the earth. In mythology, trees take on magical powers and become the centre of our fascination – they offer us a sense of the unknown. Of our past even beyond ourselves. They offer us a living reminder of events so wondrous as to be beyond our comprehension. To be able to see and touch such a tree is a powerful experience, although we cannot physically draw from it any of that power - we are unable to grasp the complexity of these feelings, the tree has a superiority over us.

A sense of belonging is something many people strive to achieve in a community. The tree with its firm base symbolises that concept of 'roots' and an element of an ongoing relationship with our surroundings. The canopy drawing in energy from its environment is symbolic of our need to absorb our cultural heritage in order to feel in tune with our evolution from times past. The drive to find an historic link with our present lives is almost instinctive and propels us forward as if on a quest to attain status and find a reason for being. The material strength of the trunk and its part in holding the tree together is perhaps symbolic of our need for inner strength.
(Tim Partridge)

Different shot and edit

Source: annenyberg.zenfolio.com
Day 159/366: Sunny summer evening
This is shot at almost 10:30 pm, after coming back from the city where I had dinner in the city with some of the people I went to accounting class with the spring of 2011. We're getting close to the lightest day of the year here, June 23rd. As said before, we are a tad bit too far south to experience the midnight sun, but there are only about 2 hours or so of it being dusky late at night even here now.
Source: annenyberg.zenfolio.com
I love making food when I have have and/or make the time to do it properly. It is a skill I want to develop and perfect even more! Today i made a concoction of tagliatelle with breaded chicken, and a sauce made of light cream, white wine, onion, tomatoes, sugar peas and parmesan cheese. So good!

Finished meal 
Source: annenyberg.zenfolio.com
Day 150/366: Bergen By Night on Flickr.
Tonight I was in Arna outside Bergen, at the house of one of the women in my reading group to attend this month's meeting. As always, a very enjoyable and pleasant time with great women.

Arna is situated a bit outside Bergen, so I was happy that I could catch a ride with one of the other women back to the city. She lives in the city center herself, so i had to find a bus to take to where I live. I could walk, but it was late and a 40 minute walk was not what I wanted right then. Walking past the fish market, I saw this beautiful sunset in the harbor area. The ship you see there is Statsraad Lemkuhl.

The serenity of the scene was kind of surreal, as this was the evening where the city hosted an Ozzy Osbourne concert, which had just ended, so the city was swarming with thousands of quite drunk and loud people! That in itself always feels kinda weird, walking as what feels like the only sober person in a myriad of drunk ones that all share the same experience and have bonded through it. It's like you exist on a different planet.
Source: annenyberg.zenfolio.com
Photo with 1 note
One of those days where everything you have striven for and the one thing you are proud to say you are truly good at, is being threatened, and you envision it all unravel right in front of you.

This photo was captured sitting on the stairs on the way up the trail to one of the 7 mountains surrounding Bergen. The intention was to go for a hike, but things happened that had me cancel those plans. I just couldn't.
Source: annenyberg.zenfolio.com